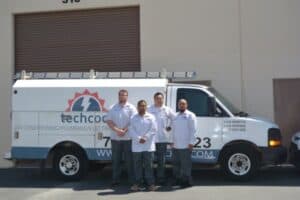 A heating system is an essential part of a household responsible for keeping a comfortable and relaxing place to stay during cold months.
It would be a wise decision to start preparing your heating system as early as possible to avoid hassle and instant stress.
One thing you can do is to check the status of your heating system.
If you do not know how to do it, let our team take care of your whole heating system.
Techcool launched its heating repair in Henderson not just to market ourselves but also with the end in mind of helping you.
If you have problems with your heater and the system itself, our line is never too busy to hear your concern.
We will immediately respond and drive straight to your doorstep to solve the issue.
Is your furnace acting up? Call for a Henderson heating repair at (702) 844 8326!
Experienced Professionals in Repairing Heating System
Our company believes that the changing weather is one reason why your heater accumulates minor to major issues.
There would be a chance of system breakdowns if you left your heating system unattended.
Techcool is composed of experienced professionals that are always ready to deal with various heating problems.
Our technicians received training and assessment in this field and have successfully proved that they can do the job.
With our years of experience, you can never go wrong with our company.
If you want to have someone as your one call away ally, you are always welcome to be our premium client for heating repair services.
To give you an idea of what we can offer, take a look at the following:
Upfront and straightforward discussions regarding the issue and costs, so you can decide and adjust what solution fits you and your finances.
We do not have extra trips and hidden charges for our emergency heating repair services.
No additional fee during holidays and weekends.
Fast and reliable repairs
Licensed, insured, approachable, and friendly technicians you can rely on
We offer both residential and commercial heating services 24/7
When do you need us?
No one wants hassle and stress brought by a malfunctioning heating system. But there are inevitable circumstances that you need to call experts for professional help.
Below are some reasons why you need to contact us immediately:
Outdated Heating System
Your heating system gets older and could wear out after long years of usage.
This is inevitable, and the system itself will most probably get outdated. Old systems have a higher chance of breakdowns and malfunction.
If you want it to upgrade, we can clean and provide maintenance with your unit, but we cannot alter its model and capabilities.
You still have the freedom to choose whether to repair or replace it.
Inefficient Performance
We are sure that you are familiar with your heating system's performance, and you'll definitely notice when it slows down or when something is unusual with it.
Some warning signs include poor air quality, no heat or less heat, different flame colors other than blue, strange sounds, and an increase in your power consumption.
If you experienced any of these, it's a red flag that only technicians can fix.
Failed Preventative Maintenance
If you got your heating system preventative maintenance, that's a good thing to know.
However, improper or flawed preventative maintenance is very risky to your system.
This is why choosing the right and trusted company to do it is a very crucial process.
In our company, this is typically one of the top reasons why there are emergency repairs.
The problem is that they are not aware of the right process to do the preventative maintenance based on the unit's manufacturer.
All of your needed instructions, including routine tasks, are kept on your manual and should be followed strictly to avoid future issues.
Moreover, no preventative maintenance at all can cost serious damage as well on your system.
Commercial Service for Heating Repair Now on our List!
Since we launched our heating repair service here at Henderson, we keep trying to find more ways of extending our help to you.
Then we decided to expand and start serving entrepreneurs for their heating system in business establishments.
We can offer you the following commercial heating repair services:
Furnace and Heat Pumps Repairs
Natural Gas Heater Repair
Boiler Repair
Thermostat Calibration or Repair
Heating System Tune-Up
Emergency Heating Repairs
Maintenance
Heating Filter Replacement
Other Routine Tasks
We have a wide array of heating repair services. If you need a service that is not listed above, call us for inquiries. Our line is open 24/7, and our technicians are always ready for emergency services.
Contact Techcool Experts for Heating Repair with 24/7 Service
Need assistance now? Stop waiting and don't endure a faulty heating system!
You can call us at (702) 844 8326. We offer other HVAC services that you might need! Feel free to reach us for queries and free estimates.
Is your furnace acting up? Call for a Henderson heating repair at (702) 844 8326!