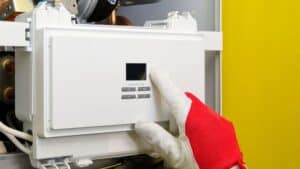 If you are residing in a place like Henderson, where extreme cold months last, you need a trusted water heater to become productive despite the chilly days.
Fortunately, people have learned to prepare and anticipate by checking their water heaters before the cold season arrives.
Water heater repair is one of the in-demand services in town, and we, at Techcool, are experts on this type of service.
You might stumble on some companies that offer water heater repair in Henderson, but false claims about quality service should not deceive you.
From Las Vegas to North Las Vegas and now down in Henderson, we want to give you the water heater repair service you deserve.
FREE estimates water heater repair, call us on (702) 844 8326 today!
Do you need a water heater repair service?
Sometimes, you can be your own superhero at home, but most of the time, you cannot, especially if it's your water heater that is at risk.
Time may come that your water heater may slow down because of some issues with the system.
If you are not aware of these issues and when to call us for repair, take note of the following:
The tank is too loud or noisy
A water heater in perfect condition should have no sounds coming from it.
But, if there are unusual and disturbing sounds like cracking or banging, your water heater needs immediate attention.
There are chances that some components are either broken or loose.
Problem on water pressure
There are two possible problems you may encounter with your water pressure.
The first one is too high, and the other is too low.
If any of these is your concern, call us right away to check your water supply's main source.
Unsatisfying water temperature
The expected water temperature that comes from your heater should not be too hot or cold.
If you keep on getting the wrong water temperature, our technicians will highly suggest checking the thermostat.
If this is not the problem or you do not know how to read the thermostat, we'll be happy to fix it for you.
Annoying leaks on your tank
Leaks can consume so much energy that can lead to high electricity bills at the end of the month.
Likewise, if your tank has leaks, it can affect the water temperature, and no one wants a faulty heater in the middle of a cold shower.
You can prevent this from happening if you will regularly check your system for possible holes.
These are just some of the issues you might encounter, and none of these can be DIYed unless you're a technician.
You might want to be hundred percent sure that your problem will be solved by choosing our company to do the job for you.
FREE estimates water heater repair, call us on (702) 844 8326 today!
No Costly Water Heater Repairs on Techcool!
People say that repairs are always costly, but that's still relative.
Our company always ensures that you enjoy the service quality that you deserve while fitting your finances.
You deserve only the best, and because of that, we decided to offer our services in a most affordable way.
By choosing Techcool to be your ally on your water heaters, you can expect the following:
You can call us any time of the day for your water heater repair needs. We are open and ready for emergency issues you might encounter.
We do not overcharge you on our 24/7 emergency services.
We do not have additional costs during weekends and holidays.
We have reasonable pricing.
Although you really need to allocate money for repairs, rest assured that it will not cost too much of your savings just to get your water heater fixed.
The total cost will depend on the following factors:
Labor
This is the hours that our technicians spent in fixing the issue.
Some water heater issues take time and an arduous process, while some will only be minor repairs.
In this case, the more difficult an issue to resolve is, there will be more hours and increased labor costs.
Water heater issue
There are lots of potential issues your water heater might have.
Just like what we said, some problems are harder to solve, while some just take minutes.
Although the costs vary from issue to issue, rest assured that our services are still made affordable for you.
Replacement parts
Some water heaters may not function properly because of worn-out parts.
In this case, there is nothing we can do but to purchase that part and install it.
It will be your choice if you still want to continue the repair or not after considering the price of the part that needs replacement.
Techcool's Repair Process
Typically, our company and technicians follow a set of processes for our services to become systematic. These are:
Diagnosis and inspection
This is the phase where we need to check your whole system. We will look at the main cause of the problem and how extreme the issue is.
Discussion
Once we find the issue where it lies, we will talk to you and discuss why and how the problem occurred.
Likewise, we will present the possible solutions we could offer, and then we will let you choose from there.
Action
After you decide on the proposed solutions, we will then start the repair immediately.
In the process of repair, we will guarantee you a safe process for your system.
If you want us to check other faulty parts, then we are glad to do it to prevent serious problems in the future.
In a hurry? Call Techcool!
Choosing a company to repair your water heater in Henderson is just easy, but ensuring its quality and trusted service is quite daunting.
Worry no more and save money by trusting our company and technicians.
If you have further queries and want a free estimate, do not hesitate to reach us at (702) 844 8326.
We are glad to help you!
FREE estimates water heater repair, call us on (702) 844 8326 today!