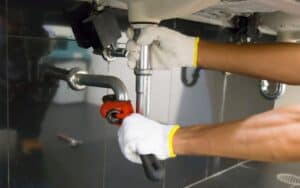 Your plumbing system is responsible for maintaining your property systematic and functional.
From an excellent water system to working drainage, all of these are enclosed in your plumbing system, and in case you run into a problem, we are here to help you.
Based out in Las Vegas and North Las Vegas, our company, Techcool, decided to serve and expand to the metropolis of Henderson.
We cater to various plumbing repair needs at any time of the day.
We guarantee you a fast and reliable repair that comes at affordable prices.
Anticipate and be ready in case your plumbing system fails! Be one of Techcool's priorities!
Your Plumbing System
Your plumbing system in your household and commercial buildings covers different aspects, which is more than just pipes and faucets.
To feed you with helpful and usable information, we would like to give a quick tour of your plumbing system, so you'll know where the problems will most likely occur.
Water Supply
Your water supply system should be well-distributed in your household and commercial buildings.
The water pressure is also one of the important factors you need to keep an eye on. Any issues regarding water supply should be attended and solved by a plumber.
Drain-Waste-Vent
Also known as the DWV system, the Drain-waste-vent is one of your property's vital and crucial parts.
This system is responsible for carrying wastewater coming from the sinks, showers, bathtubs, washing machines, and dishwashers down to the sewer or septic tank.
Moreover, the vent is a plumbing part, essential in ventilating sewage gases to avoid lingering on your house.
These are the pipes you cannot see because it is hidden behind your walls.
Kitchen Plumbing
This system mostly talks about your plumbing set up in your kitchens, such as the disposer, dishwasher supply, drain, water supply, flexible supply tube, shutoff valve, air gap, and tailpiece.
If you are not familiar with it, look underneath your sink.
Those pipes and fixtures are what we're talking about.
Bathroom Plumbing
This is the system where most of the wastewater comes from. This includes showers, toilets, sinks, and bathtubs.
Water delivery and waste removal are essential in bathroom plumbing to make the whole system functional and efficient.
As you can see, plumbing is composed of different systems.
Any issues you will encounter on the systems mentioned above may require you an inspection and a possible repair from certified plumbers.
No worries because our company can fix issues related to your whole plumbing system, and we're just one call away any time of the day.
What can we offer?
Our company has a lot of plumbing repair services to offer.
With our experienced and professional technicians, there's nothing we can miss.
You may call us if you need the following services:
Faucet, shower, tub, and sink repair
Toilet flange
Sump pump repair
Water heater repair
Well repair
Frozen pipes
Clogged drains
Leaking pipes
Drain cleaning
Garbage disposal repair
Inspection and diagnosis
Plumbing maintenance
Keep an eye on the performance of your plumbing system, and do not ignore minor details.
Some of the serious repairs we encountered came from small issues, leading to costly repairs. We can give you free estimates for your plumbing repair.
However, the cost has the possibility to increase upon seeing the issue personally.
Commercial Plumbing Repair from Techcool
Our technicians are all well-versed in household plumbing repairs, so we decided to improve our service by helping entrepreneurs with their plumbing systems.
Our plumber commercial services include:
Declogging
Tank cleaning
Restructuring of pipes
Drain cleaning
Frozen pipes
Jetting
Leaking pipes repair
Hydroscrub
Diagnosis and inspection
Other plumbing issues that need repair
Our company is insured so you can have peace of mind while we are working on your property. If you need emergency plumbing assistance, you can also rely on us.
We are 24/7 Open!
Are you worried that no one can fix your plumbing fixtures in the middle of the night? Stop the worry because Techcool offers 24/7 emergency plumbing repair anywhere in Henderson.
If you have leaking pipes or clogged sinks or drains, call us, and we'll send our technicians as soon as possible.
For more inquiries about our services and free estimates, you may reach us at (702) 844 8326.