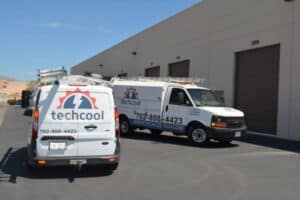 With Henderson's fast pacing industry, companies keep on arising, and competition is getting higher.
As a result, the quality of service that people can expect from these companies is also improving, and we are one of them.
Techcool, a dedicated company whose goal is to provide prompt services such as AC repair, installation, maintenance, and more, is now in Henderson.
Search no more because our company is ready to serve you with our round-the-clock services.
Our company caters to various HVAC and plumbing needs, and one of our in-demand services is AC repair.
If you're just around Henderson and need someone to check and inspect your air conditioner, do not hesitate to ring our line!
Professional Henderson AC Repair
There are lots of HVAC companies you might stumble upon once you start searching.
However, what each company can give greatly differs from one another. We, at Techcool want to give you a hassle-free service for all your HVAC needs.
If professionalism is what you're looking for, consider us because we have the following assets:
Legal business structure
Building a business or company in Henderson isn't possible without a legal structure.
Our company ensures that before we start advertising and offering our services, we have the legal documents needed.
We took time to process and legalize our business, so you can trust us.
We also made sure that we have all the permits, licenses, and tax documents that the state requires.
Certified technicians
Since our company's reputation relies heavily on our services that our talented technicians provide, we keep on improving their skills.
We hire certified and professional individuals that can demonstrate a high level of commitment and skills.
Likewise, we aim to develop their empathic attitude towards our clients and help them with career progression.
Trusted HVAC Repair in Henderson
Our company, which is originally based in Las Vegas, decided to extend here at Henderson.
This is because Techcool wants to provide and set standards in the community in terms of quality air conditioner repair.
We believe that you deserve only the best, and we are here to give you that, so do not settle for less.
More and more clients, both residential and commercial, keep on trusting our company. But why is that so?
We have a legally-binded contract
At Techcool, we believe that a contract is the most essential and crucial part of every partnership.
Whether it is a small or a massive business, a contract is a vital aspect. We always want to be your service provider, and we communicate it through our writing.
All our conditions and guarantees regarding the services are presented in the contract.
It will also direct us to the right solution if there will be problems that occur during the working process.
Our agreement is very important to us, and we will never leave you hanging by providing a clean and organized contract.
We only suggest products with superb quality
Although we are a service provider that doesn't own a store for your part replacements, rest assured that we can still guarantee you durable products.
If your unit requires a specific component, we will relay this information to our trusted manufacturers who have the same goal as ours- to provide a quality service for you.
They will be responsible for choosing the most suitable and qualified products for you.
We only build connections to manufacturers who are years in the field of business and with a proven, reputable brand or name.
Best Air Conditioning Repair in Henderson
Techcool Henderson always strives to give you guaranteed and secured AC repair services in town.
Our company keeps on looking for new ways to extend our help to more people who need emergency and scheduled air conditioner repair services.
Aside from the fact that we can guarantee you a service that can potentially save your unit and your pocket, we are also open on giving you helpful tips that you can apply to save your HVAC system.
You can connect with us for a free consultation, and we'll be glad to feed you with all the HVAC information, dos, and don'ts that every homeowner needs to have.
Our advisors work hand-in-hand with our technicians to give full support on dealing with different and wider scope of air conditioner issues.
This is to give you an assurance that we don't take you and your unit for granted and that we are worth trusting.
Emergency AC Repair Services
Techcool now offers 24/7 AC repair around Henderson.
If your AC suddenly stopped working in the middle of the night, we are ready to turn on our headlights and drive all the way to you to fix the unit.
But why should you take advantage of our emergency repair service?
Techcool doesn't charge our clients extra fees for emergency services. Likewise, besides the labor fee and some additional costs like new parts for replacement, we don't have any hidden charges on top of our services.
For questions and free estimate, you can reach us at (702) 844 8326.
---
Techcool specializes in ac repair for Las Vegas residents who are looking to stay cool all summer long. Techcool provides great customer service and fair pricing. Our knowledgeable technicians repair ACs efficiently using state-of-the-art equipment. Give us a call today so we can tell you how we can help you with your ac problem.