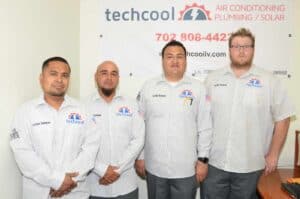 Dealing with air conditioning breakdowns and malfunctions is stressful, especially if it's in the middle of the night.
No one wanted a broken unit in the first place, but there are just inevitable circumstances that you need to handle, whether you like it or not. 
As part of living in the sweltering Las Vegas, you need to be prepared to avoid such hassle on your air conditioning units.
One wise preparation you could do is to keep our phone contact on your list for ac repair emergency purposes.
You do not want to search on the spot HVAC companies late at night to help you, aren't you?
That just would add up to the hassle and it would take hours of the process.
So, to save you from those unfortunate scenarios, you can always give us a call at, (702) 808-4423!
Our team is 24/7 on standby, ready to knock on your door and promptly repair your unit, the way you want it to be. 
What covers our emergency service?
Techcool believes that both minor and major malfunctions on your air conditioning unit deserve immediate attention.
Therefore, if you noticed something strange with your unit or system's performance, it would be better to call us right away.
For almost four decades of providing service, we noticed patterns on air conditioning units that require immediate repair.
These are the following:
Unusual sounds
These are the disturbing banging or cracking sounds you might hear on your unit. You can hear it either on the cooling fan or on the motor itself. 
Foul smell
An unusual smell could mean that there's an electrical breakdown.
Typically, it comes with a burning smell, and you should never ignore this warning sign because it could lead to a more dangerous consequence.
Likewise, keep an eye on sparks or fires that might be triggered when turning on the unit. 
Slow cooling process
If your unit takes time to cool the room than usual, there's definitely a problem with the unit. It could lie on its filter, condenser, or evaporator coils, and only HVAC technicians can determine the real cause.
You should keep an eye on the performance of your unit and if it's starting to become inefficient, call us right away. 
Total AC failure
Frequent or a total breakdown of an air conditioning unit is the most obvious yet complicated issue.
There's a lot of potential causes we need to consider, and we need to inspect and diagnose them as early as possible.
Other issues include:
Leaks
Frozen coil
Blowing warm air
Your unit does not meet your demand
These are the most common concerns of our clients about their air conditioning units. In case you might encounter any of these, please give us a call as quickly as possible. 
Although we are already familiar with these scenarios, we are still on the lookout for new triggering warnings to find solutions.
Likewise, issues vary a lot from each other but rest assured that we have the best technicians in town to get your unit working again. 
How does your emergency service work?
Ever since Techcool started operating, we only have the two-way process when it comes to our service. 
24/7 Customer Service
If you got a sudden interruption on your air conditioning unit, we would recommend skipping our online form and call directly to our phone.
We have representatives who are 24/7 ready to answer your questions and to connect you to our technicians.
Please do not hesitate to ask as much you do, and we will respond as promptly as we can for you. 
24/7 HVAC Technicians
Right after you brought up your concerns to our representative, you will get an immediate response from our technicians.
They will either elaborate the possible solutions to you via phone or run into your property as soon as you give them your address and the go signal to start the process.
We ensure that we have a simple yet systematic way of addressing your issue to avoid hassle on both of our ends. 
How much will it cost for an emergency ac repair during nighttime?
There are lots of HVAC companies around Las Vegas. Some do not offer 24 hour emergency ac repair service, while some might have, but will charge you a lot. Now, you're left with a dilemma on where to run. 
Techcool Las Vegas offers our emergency repair service that comes at an affordable price. We do not charge you for late-night services.
Instead, we will keep the same typical repair costs during day time. No trip fees, no hidden charges, and no overpricing. 
Moreover, the repair costs vary from issue to issue. If your unit got too complicated, that might cost you a lot. This is why we always advise our clients to call us and get their unit checked right away if they noticed something unusual.
This is to avoid costly repairs. However, if you didn't see the problem coming, no worries because we got you! 
Why should you trust Techcool than any other 24 Hour Emergency AC Repair in Las Vegas?
Techcool ensures high professionalism and guaranteed 24-hour emergency ac repair service. We do not take our clients for granted, and we take pride in every step we take. 
Building a reputation and identity as a trusted HVAC company in Las Vegas isn't easy. We worked hard for it, earned it, and we want you to experience our quality service whenever you need it.
We have a flexible and wide range of services that could handle your air conditioning issues anytime.
Likewise, we are a licensed entity, legally organized, and insured to give you peace of mind.
Stop your search and start adding our contact details on your favorites. We are just a call away, and we are born ready to fix what needs to be fixed.
Call us at (702) 808-4423 for prompt service!