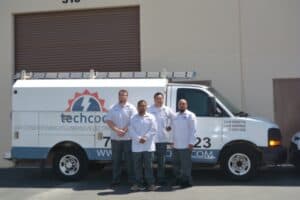 A comfortable living in Las Vegas typically means having an excellent air conditioner system.
This is true, but you'd also want to pay attention to your furnace before colder months arrive.
It is essential to have a well-functioning heater to experience a comfortable room for your family and friends.
Are you in Las Vegas and looking for HVAC services?
Techcool is ready to inspect and fix any heating issues you have on your system. We have the knowledge about various heaters and can start repairs no matter what model it is.
Start preparing as early as today to avoid the hassle and chilly moments in your home!
Is your furnace acting up? Call for a Las Vegas heating repair at (702) 808-4423!
Our Trusted Heating Repair Service Process
At Techcool, we ensure that we have components of heaters ready in case you need repair.
However, there are instances wherein your furnace has specific parts that cannot be altered by some brands so we need to wait and order that first.
Consequently, it will take time for your heater to get repaired, but rest assured that we will try our best to speed up the process for you.
How do we start our repair service, then?
We will visit and inspect your furnace to see what's going on. We also need to ask few questions regarding its performance before it stopped working or did anything happen that caused the problem.
We will look at your overall heating system thoroughly.
After the inspection of our technicians, we will discuss the potential solutions we can do.
The Importance of Furnace Inspections
If maintenance plays a vital part in your unit's lifespan, inspection is also essential. Your heater should have an inspection at least once a year.
No worries because it only takes a couple of processes and can give you the following benefits.
It can decrease the chance of breakdowns.
It keeps your heating system's operations safe.
There is an even heat distributed in your home.
It can extend your heater's life.
If you want your furnace to run smoothly, an annual inspection can save you from further issues.
Our technicians take the time to inspect your system. Once they notice some components that need attention, they will let you know. Our team will also check each part and see if all is well and functioning.
At Techcool, we offer both heater repair and maintenance. Whether you want it for your commercial or residential systems, our team is ready to handle the service for you.
Moreover, we have to admit that inspecting a heater system and finding the issue takes too much time.
To save both of our time, it would be better to give us a call immediately once you noticed something unusual in the system.
When Does Your Heater Need a Repair?
Although you do not have complete knowledge about heating systems, it is still essential to gain some basic information about it.
By getting a little pinch of why and how, you can save your system from serious issues that lie ahead.
Most people do not know when to call HVAC professionals for their heating systems. This is why we would like to break down the various signs when your furnace needs repair.
These are the following:
Unusual furnace odor
The smell of fuel when you turn on a new furnace, is just normal. This fuel odor dissipates as your furnace runs.
However, if the smell is too strong to take or suddenly and randomly appears, your unit may have a problem.
This could be caused by particular issues, and you need to call technicians as soon as possible.
Difficulty in turning on the unit
As your furnace gets older, you may observe that it is harder to turn it on immediately.
There are instances wherein you need to try three or five times before it can operate.
When you experienced it, call your HVAC technicians to locate the functionality issue on your system.
Not enough heat
This is one of the obvious signs that you can easily detect. If your heater cannot provide you a low heat or no heat at all, it definitely needs repair.
Typically, this is caused by the leakages on the ductwork causing the air to escape or a faulty thermostat.
Poor indoor air quality
A well-maintained furnace system is vital for improved air quality.
If your furnace is not properly maintained, it can move the bacteria, dirt, and other particles lingering in your heated room.
As a consequence, you'll have frequent headaches, watery eyes, itchiness, coughs, colds, and
Fortunately, you can do something about it. You can reach us, and we'll check your system's ductwork to see if it needs a thorough cleaning.
Once your unit is cleaned, you'll notice that your health is also improving.
We're Up for Heating Repair Commercial Systems Too!
If you have a heating system in your Las Vegas business, you should know that it is different from that of a residential one.
A commercial heating system is significantly larger than the ones you have in your home.
But you should not worry because we can handle both small and large systems for you.
If ever you need our heater repair on a larger scale, we will surely send our team who is capable of handling commercial heating systems.
All you need to do is call us and tell us what service you need.
We'd be glad to answer the phone for you.
Give Us a Call at Techcool in Las Vegas!
Both cooling and heating systems are essential to achieve a comfortable environment.
No one wants malfunctioned units, poor air quality, and health issues for their family and office staff.
This is why Techcool expanded its heating repair service to cater to both residential and commercial spaces.
Whether you are up for a minor or major repair, rest assured that we'll do the right thing with our HVAC experts in the field.
If you notice something unusual on your furnace that affects the performance, please call us at (702) 808-4423.
Our HVAC techs are on stand-by and ready to knock on your door to inspect and repair.
Is your furnace acting up? Call for a Las Vegas heating repair at (702) 808-4423!