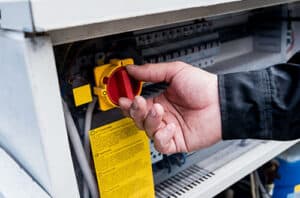 Aside from the structure itself, the heating and cooling system is one of the most expensive components in a home.
And yet, people think nothing of going years without performing regular ac maintenance.
Sure, everything seems fine for a while. But over time, the hot, humid summers take a toll.
The system begins running less and less efficiently. Utility bills start inching higher. Dirt accumulates.
Parts work themselves loose or wear out. Finally, the system shuts down — often in the middle of a brutal heat wave. It's time for an inconvenient and probably expensive repair call.
Don't let this happen!
There is a simple, easy, budget-friendly way to protect your air conditioner and maximize your chances of having a cool, comfortable summer.
Hight-quality AC Maintenance in Las Vegas
As specialists in AC repair in Las Vegas and the surrounding areas, we know that regular professional maintenance is an important part of having an HVAC system.
Over time, dust and worn parts lower the efficiency of your system and increase the risk of problems.
Scheduling regular preventative maintenance for your HVAC system can improve the lifetime of your unit up to 48% and prevent yearly losses of up to 15% in cooling and heating efficiency.
AC Maintenance –The Affordable Alternative to Repairs
Routine air conditioning maintenance heads off most problems before they have a chance to leave you sweating.
An ac maintenance appointment costs about the same as a nice dinner out with the family, but it can actually help your wallet.
Regular maintenance keeps your system running its best, which means lower monthly energy costs.
Preventive maintenance has also been shown to contribute to a longer working life. That means you may be able to keep the system running a few extra years before you have to replace it another.
The warranty details of newer systems often require periodic maintenance. Without it, breakdowns and other problems may not be covered under its warranty.
What does an AC Maintenance Check include?
A technician from Emergency AC Repair Las Vegas will thoroughly inspect both the inside and outside components of your cooling system.
Outdoors
Clean dirt, leaves and other debris from the interior of the outdoor unit
Inspect the coil and cabinet and clean as necessary
Inspect fan motor and blades and lubricate as needed
Inspect the control box, associated controls, wiring and connections
Inspect the compressor and associated tubing for damage
Check refrigerant level and add refrigerant if needed
Indoors
Inspect and clean condenser coil
Inspect blower motor and wheel
Line voltage and wiring inspected
Electrical connections inspected
Condensate line inspected for proper drainage
Operating controls inspected and cycled
Refrigerant lines checked for leaks
Filters inspected and replaced at customer's request
A written report of all findings and recommendations
You've heard the old adage that says that if something isn't broken, there's no need to fix it. In reality, it takes a lot of preventive work to keep your AC working at its peak, and at Techcool, we want to do that work for you!
Schedule your AC Maintenance in Las Vegas Today!
If you are interested in learning more about our AC Tune Maintenance services available to homes and businesses across the Las Vegas area, contact our team at (702) 808-4423 today!
An air conditioner's filters, coils, and fins require regular maintenance for the unit to function effectively and efficiently throughout its years of service. Neglecting necessary maintenance ensures a steady decline in air conditioning performance while energy use steadily increases.
Experts suggest servicing your home air conditioning once a year. (The same goes for heating.) Spring is the best time. However, to ensure your system continues to work efficiently, you need to do some "housekeeping" on a regular basis.

Regular AC maintenance servicing costs $75 to $200 for simple tune ups. Extended service contracts run $150 to $500 but include the entire HVAC system, both heating and cooling. For repairs outside a standard service, expect to pay $50 to $150 per hour for an HVAC technician.