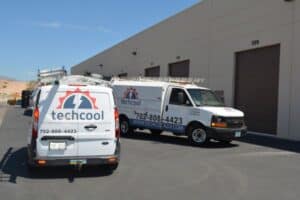 Your home should have a cozy and refreshing indoor temperature.
In the summer and autumn, the warm temperatures at Las Vegas make air conditioning essential.
If your air conditioner doesn't work and needs repair, please let Techcool's experienced technicians help.
Since 2014 in Las Vegas we've been repairing, installing, and maintaining air conditioners and working with all machines and models.
Do you need AC repair right now in Las Vegas? Call our heating and air conditioning company (702) 808-4423 or use the online form to provide a service. We are available 24 hours a day.
Check the Thermostat Before Calling for AC Repair Company
Your thermostat is the small box that regulates the temperature of your air. It is probably the part you know the most about your AC unit.
Before calling within the pros there are some steps you'll go for try to fix the matter on your own.
Set the temperature at 5 degrees below your home's current climate.
Check the power if the thermostat does not react.
If battery is operated, the batteries may need to be replaced by new ones.
If it is electric, check the device-associated breaker. If these tactics don't work, you'll have to call knowledgeable.
Some thermostats is also on, but might not read the air temperature correctly.
Our air conditioning repair experts in Las Vegas can determine if your thermostat requires simple fine-tuning or if it's time for a replacement.
We carry a good range of thermostats including programmable and Wi-Fi enabled units.
How to Quiet a Noisy Air Conditioner
When you 're trying to cool down down on a hot summer afternoon, the final thing you would like to accommodate is that the loud rumblings of your air conditioning.
Instead of grind to a halt in a very catch-22, there are certain stuff you can do to quiet your AC.
It is vital to seek out the reason for the noise before taking action.
How to make your AC quieter
Adjust fan speed: Your blower or furnace fan deliver the correct airflow per ton. If this is not set to the correct speed, it can start causing plenty of noise. By reducing fan speed, you'll calm your AC.
Adjust motor belt: If your motor belt is broken or loose, it'll hit against the AC, causing noise and wearing on your cooling unit.
Soundproofing blanket: If you've got an outside AC unit, you'll be able to buy a soundproofing blanket to place over the unit which will reduce the noise.
Why Is My Air Conditioner Leaking?
In the warm summer afternoons, your ac can be a blessing. But while taking a dip in cool water is great, it's less so if that water 's coming from the AC.
If you notice water leaking from your cooling system, don't panic.
There is numerous reasons, all of which we are able to facilitate your with.
Reasons your AC is leaking water inside:
Drain line is disconnected
Condensate drain line is clogged
Drain pan is clogged or disconnected
Condensate pump is malfunctioning
Frozen evaporator coils
If you notice your air conditioner is leaking, contact our skilled team at Techcool. We have extensive experience handling leaks and offer Las Vegas AC repair you can rely on.
How to Handle an Inefficient Air Conditioner
If your air conditioning is functioning but seems to be running slower than usual, the problem is also with the evaporator.
When this part gets dirty, it can choke off your whole system. It could even be your condenser, which may be clogged with weeds or debris that may inhibit its effectiveness.
In order to forestall this, you ought to ensure there are not any plants within 18 inches of your compressor.
However, all of those steps require a working knowledge of your AC unit.
If you do not know your way around it, it's safest to go away the inspection and repair work to our technicians.
We encourage you to offer us a call if you notice any of the following:
Your unit is making odd noises
The compressor is leaking refrigerant
The compressor is faulty
You think your AC unit for your home is just too small
Your AC device continues to shut down
You smell unpleasant odors after you activate your AC system
The AC unit is blowing air, but it's not cold
Your unit won't activate after you have got checked the thermostat
Dirty AC filter causes?
It's not just allergies that can be affected by dirty air filters. That's because your heating and cooling system's air filter – which is usually located just outside your furnace – plays a vital role in your HVAC system's performance.
It's important to know that a dirty air filter can cause some pretty severe problems, including slow cooling, lower energy efficiency, higher energy costs, etc.
How to properly clean your air conditioning filter
Check the condition of the AC filter to see if it needs to be clean.
If you can see any discoloration, or visible surface dust on the AC filter, clean or replace it.
If you've washed your reusable AC filter, let it dry thoroughly.
Reinsert either a clean, dry reusable filter or a new disposable into your AC unit.
Emergency AC Repair in Las Vegas, NV
We have great news! You can now get 24/7 emergency repair service from your favorite local HVAC techs. No more waiting for the middle of the night when your AC stops working.
No more hoping the unit is still under warranty when it breaks. You can get emergency repairs from your favorite local HVAC techs now.
Techcool also offers emergency ac repair in Las Vegas area, call us at (702) 808-4423 for immediate action.
Summer heat is rolling in, and that means it's time for you to make sure your air conditioner is in tip-top shape. If you want to avoid big repair bills and avoid the hassle of running around town looking for a repair person, now is a good time to make sure that your ac is ready for the summer.

You can take care of most minor ac repairs yourself, and avoid the high cost of an emergency ac repair. If you have never worked on an ac unit before, don't worry. This article will walk you through everything you need to know to get your ac up and running again.
There is no exact price for new air conditioner in Las Vegas, since it can vary depending on the brand, size and features you are looking for.

For example, an older model from a not so popular brand may cost $800, while a more expensive brand and a more advanced model may cost you close to $2,000.

The rule of thumb is to have at least 10% of the cost of the new unit for the installation.
For most people living in Las Vegas, the air conditioning unit is one of the most important appliances in their home. In the middle of the summer in the middle of the desert, things could get uncomfortable if you don't have air conditioning.

So, how long do AC units last in Las Vegas? The answer will depend on a variety of factors: the age and make of your unit, how you take care of it, and what kind of weather you typically see during the summer.