Reliable AC Repair Las Vegas Service from Techcool
Techcool offers the best AC repair Las Vegas service that many households in the city trusts. We've been doing it since 2014, and we continue fully satisfy our clients after each fix.
That's with the professional air conditioning, heating, and plumbing services that we offer. All for your home to stay cozy round-the-clock.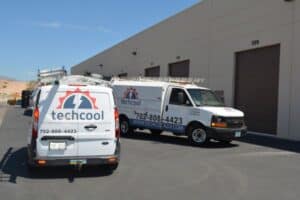 Ever since Techcool started operating in 2014, our primary goal is to give the most comfortable environment for every household in Las Vegas.
One way to achieve this is by providing you the best HVAC services we have.
Whether you need AC repair, installation, replacement, or heating and cooling repair, Techcool of Las Vegas is ready to serve you.
No one wants a dry and warm indoor temperature, to condition your HVAC system to avoid hassle and conflicts ahead.
If we notice something unusual on your unit, we recommend having your AC repaired right away.
FREE Air Conditioning Repair Estimate Available. Call us on (702) 808-4423 today, we are available 24 hours a day.
Professional AC Repair Las Vegas
Our company is composed of professional individuals ready to save you from your air conditioner issues any time of the day. But what makes us a professional company that everyone keeps on trusting?
Licensed and insured
Techcool ensures that every permit and license needed to operate are filed and submitted.
From the formation of our business to the submission of tax documents, we made it sure that we are all clear and ready to run.
We are a law-abiding company and a legally organized entity with state and federal licenses.
Moreover, our company and services are also insured to give you peace of mind. Whenever our technicians enter your property, it becomes our responsibility. If there will be unexpected circumstances while our team is working, rest assured that we will take care of it.
Trained HVAC technicians
The quality of services that our company can give depends on our front liners, who are our HVAC technicians.
We commit to giving you prompt and quality air conditioner repair, so we always ensure that our human workforce is well-trained and career supported to give them the essential skills and knowledge they need to handle various issues.
Likewise, we want them to be updated with the latest trend in the HVAC field so they can apply useful techniques and strategies while working with you.
Trusted HVAC Repair in Las Vegas
With long years being a service provider, Techcool earned its reputation as a trusted HVAC repair in Las Vegas.
Locals keep on hiring our team because of our skill sets and qualifications to offer.
Transparent Contract
Before we enter your property and lay our hands on your AC unit, we always make sure that we put our interest and bid through writing.
We are ready with our contracts, wherein it indicates the terms and conditions regarding our service.
We believe that a contract is an essential asset of our partnership.
When something goes wrong later, then we have a contract to depend on.
We never start our work without a legally binding contract.
Quality products
There are instances when your air conditioner needs a specific part to be replaced so it can function again.
To help you solve this dilemma, we have product recommendations from our trusted manufacturers.
Our company is in partnerships with some of the trusted and qualified manufacturers around Las Vegas.
When we need components for our services, they are only one call away, which makes our service more efficient.
We care for our reputation, and we will not choose manufacturers who can't deal with the same quality as ours.
FREE Air Conditioning Repair Estimate Available. Call us on (702) 808-4423 today, we are available 24 hours a day.
When to Get Our AC Repair Las Vegas Services?
There are simple problems that DIY tricks can solve. But you must know when to call us for professional HVAC repair. This is crucial because wrong DIY fixes can cause bigger issues. And you don't want that. 
Call us today when you notice any of these signs:
Leaky or problematic compressor
Produces odd noises or foul smell when activated
Persistently shuts down by itself
Doesn't turn on
Air that the unit releases isn't cold
Small or insufficient AC unit size for a large home
Blockage in the evaporator or compressor cause some of these problems. Lodged debris can obstruct the air flow and reduce the efficiency of the machine. This is why you must trim trees or weeds around the compressor, and keep them at least 18 inches away.
Not sure about these guidelines for the health of your HVAC system? we can professionally apply them for you.
We can check your HVAC system's size, environment, conditions, and other technical factors. Our expert technicians can also do simple clean-up and complex repairs according to what your AC unit needs. This is to make sure that things are great for your machine to run efficiently.
Best Air Conditioning Repair Service in Las Vegas, NV
Techcool Las Vegas offers various AC repairs that you might need. We are experts in fixing minor issues to complex ones, and with our HVAC tech's expertise, there's no doubt why more and more clients keep on choosing our service.
If you are just around Las Vegas, and searching for a guaranteed and superb AC repair service, do not hesitate to call Techcool Las Vegas.
We are equipped with the right equipment and fast technicians who are always ready to work on your unit.
We are an expanded company looking to serve you with all your AC needs.
Start by calling us, and we will discuss the things you need to know about our company and the services we can offer.
Emergency AC Repair Services
Techcool proudly offers its emergency AC repair in Las Vegas. You can contact us 24/7 when you need your AC to be checked.
Regardless of what time of the day it is, we'll be happy to drive right straight to you, inspect and diagnose your unit, and then fix what needs to be repaired.
Feel free to call us because our line is always open to hear your inquiries.
Note: We do not charge extra fees for our emergency services, holidays and weekends.
You can call us at (701) 808-4423 if you need an immediate or scheduled AC repair service.
FREE Air Conditioning Repair Estimate Available. Call us on (702) 808-4423 today, we are available 24 hours a day.
FAQs about our Services
How much an AC repair costs?
The total cost of an AC repair is relative.
It depends on the situation of your unit if there are components needed to be replaced. But to give you an idea, repairs start at $100.
A minor repair is cheaper than an emergency repair.
It is because emergency repairs are serious issues that have never been noticed earlier.
This is why it is essential to have your unit checked by HVAC technicians as early as possible to avoid high costs.
How much does a brand new AC unit cost in Las Vegas?
The price of an AC unit depends on your preferred brand.
If you plan to purchase an old model, it typically costs $800, while a more advanced unit starts at $1800.
In this case, you might want to research various units and their prices to fit within your budget.
Moreover, we can also recommend units as long as you'll give us the chance to take them over for you.
How long is the lifespan of an AC unit in Las Vegas?
You need to consider a few factors that affect the lifespan of your unit. These are the age and maintenance of your unit.
If you know how to take care of your unit correctly, it can stand the test of time.