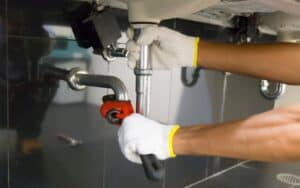 One of the most essential parts of your household and commercial property is your plumbing system.
This system is responsible for keeping your property efficient in terms of water supply and management, drainage, and proper human waste disposal.
A well-installed and properly-maintained plumbing system can save you from spending too much money because of health issues and costly repairs.
We, at Techcool, wanted to ensure a safe and trusted plumbing system for your household and commercial properties in Las Vegas.
Our company's role is to give you both your needs and comfort through our plumbing services. One service we have is plumbing repair.
If you notice something unusual with your plumbing system, Techcool Las Vegas is ready to knock at your doorstep.
The Nature of Plumbing System
The plumbing system does not merely talk about your pipes and faucets. It's more than that, and it's wider than you thought.
To give you an idea, your plumbing system covers the following:
Water distribution
Potable drinking water is essential and needs to be centralized well in your household and building.
Waste management
It includes sewerage, a series of sewer pipes responsible for collecting wastewater, sewage, and human waste for disposal.
Plumbing air vent
This is also known as vent stack, which contributes to the efficient regulation of air pressure in the plumbing system. It is responsible for circulating fresh air while discarding the unwanted odors through the drain pipe.
Soil pipes
Proper installation of soil pipes is required to efficiently distribute soiled water coming from the urinal, bidet, or toilet to the sewer.
Drainage
Removal of wastewater from your building is necessary in maintaining a safe and hygienic place to avoid health problems.
If you experienced any discomfort and noticed unusual conditions on your plumbing system mentioned above, you might need repair. Reach Techcool Las Vegas immediately, and we'll send our plumbing technicians to inspect your system and find where the problem is.
Our Plumbing Repair Services in Las Vegas
Sometimes, troubleshooting a malfunctioned plumbing system could work, but not for everybody. In this case, you need professional help in figuring out and solving the problem.
Techcool can assist you with the following plumbing problems:
Faulty faucets repair
Once you hear drips on your tap, your faucet is most likely faulty. You do not want to waste 2600 gallons per year for every one drop per second, aren't you? Techcool uses appropriate tools and can recommend parts from our trusted manufacturers to replace your old ones.
Leaking Tubes and Pipes
Leaking pipes are the most common problem in a household. Our team can get the job done by replacing your PEX pipes with copper ones. However, copper pipes are prone to corrosion. In this case, we will recommend and perform preventive maintenance before winter comes.
Toilet Problems
We try to figure out and find the culprit when your toilet has issues. Typically, the rubber flapper is the main cause when there are tank leaks inside. Replacement of the rubber flapper or the whole flushing mechanism is our suggestion.
Broken Hose Bibb
A broken or worn-out hose bib can cause leaks, and the reason is that it cannot stand the test of time. If this happens, we are ready to offer you a heavy-duty and frost-proof hose bib for your plumbing system.
Clogs
Although we can fix your clogged drain and pipes, we would still advise you to purchase a drain catch. If you have a drain catch, you can avoid getting clogged sinks and drains.
Sump pump
Heavy snow and rain are the main reasons why your sump pump fails. When we encounter such a problem, we will realign the gutters for the foundation to drain, then sloping it around. We will also check your patio, decks, and other concrete surfaces to help with the irrigation system.
Hot water not available
If you have a problem with your heater, we need to check it personally to find out the issue. However, if you notice that there are already unwanted sounds coming from your heater, it surely needs repair, and it's time to call us out.
Weak water pressure
Save your household by letting us check and fix your water pressure. Our team ensures that the valve and pipe-levels on your system are correct.
The weak water pressure might also be the reason why your faucets leak, so it's essential to call us immediately when you notice something unusual with the pressure.
If you noticed or experienced any of the issues mentioned above, reach our team quickly to avoid serious issues in the future.
Plumbing Repair Cost
The type of plumbing issue you want to resolve has its own cost. If your system needs the replacement of some components, we need to purchase that specific part, adding to the total cost.
On the other hand, if you only need minimal repairs like leakage fixing, it would not be that expensive.
Techcool understands and cares for your finances as well. This is why we are open if you want an estimate of your plumbing repair. But to give you an idea, you might want to have a ready budget starting from $100 and above.
Our Plumbing Repair Process in Las Vegas
Our plumbing repair process varies from issue to issue.
However, our team usually starts at diagnosing the problem by asking you few questions such as:
Did something unusual happen before the problem occurred?
What can you say about the performance of your system before you noticed that there was a problem?
Did you try to troubleshoot the problem on your own? If yes, what did you do?
By answering these questions, we can solve the problem right away. After this, we can discuss the solution and your permission to take control of your plumbing system. We will also notify you if there are replacements needed so you can prepare or adjust your budget.
Call Techcool Las Vegas Today!
Techchool Las Vegas is happy and proud to offer our plumbing services to you. Aside from our services, we can also give you a few tips and recommendations for your system. For inquiries, call us at (702) 808-4423.
We are glad to serve you!