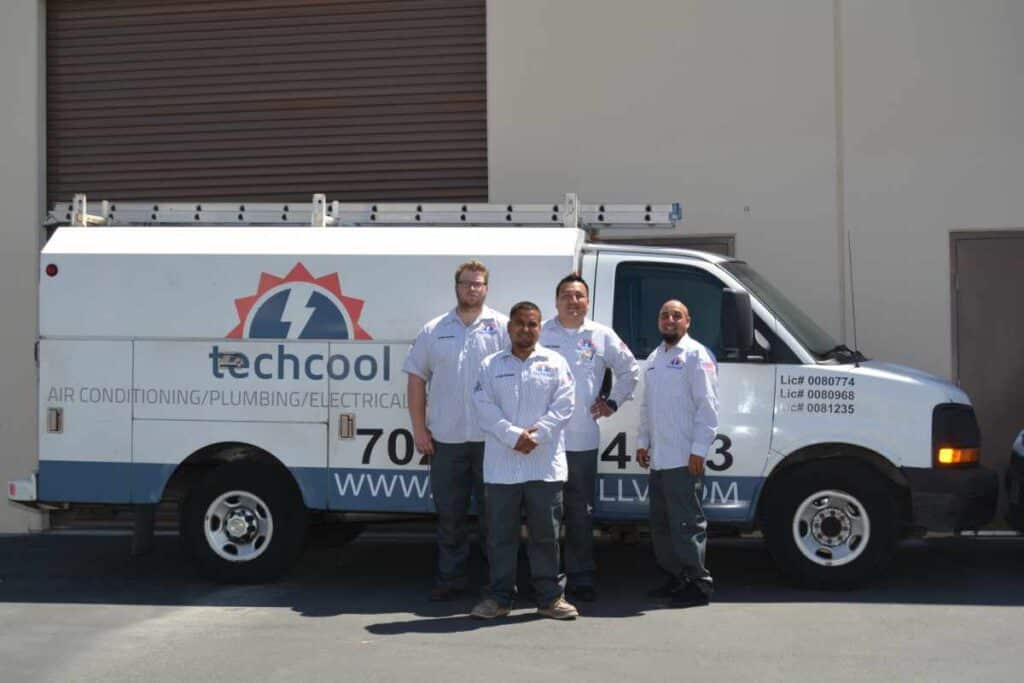 People do not want a malfunctioning air conditioner or furnace, but the cliché part is that they don't know how to properly take care of it to avoid such a problem.
When your HVAC system malfunctions or slows down, the default action is to call a technician and do a repair. As a consequence, it will cost you a lot more than you expected.
Little did you know that there is a better way than repair to keep your units running? Here at Techcool, we call it preventative maintenance.
We provide maintenance service to your system to detect and fix early issues making you safe from future costly repairs.
Do you need Preventative Maintenance in North Las Vegas? Call us on (702) 915-7624. We are available 24 hours a day.
Preventative Maintenance in North Las Vegas
A consistent and scheduled preventive maintenance can give your system an improved performance and secured unit life.
Getting an annual tune-up is the best example of maintenance that could give your unit an efficient performance.
Scheduling preventative maintenance is beneficial because:
Efficient system operations
Extended unit lifespan
Saves money from costly repairs and high energy consumption
Improved poor air quality indoor
Why You Should Choose Preventative Maintenance
Preventative maintenance is a smart way to keep your HVAC system working properly without any hassle.
Your air conditioners and furnaces are engineered and designed to withstand tremendous heat, humidity, and other factors, but it should not give you the reason to take them for granted.
Preventative maintenance is what your units need to save them from serious problems in the future. Likewise, you'll get to enjoy an efficient and smooth-running system for a more comfortable life.
Our Preventative Maintenance Comes With a 100% Customer Satisfaction Guarantee
Our HVAC company aims to provide customer-oriented services. This means that we provide satisfaction by improving and offering an excellent service. But what can we give?
Techcool offers 24/7 emergency services for your HVAC system. Any time of the day, we are ready to help you fix your unit. Likewise, we have flat-rate pricing and take pride in doing our work to meet your expectations.
Do you need Preventative Maintenance in North Las Vegas? Call us on (702) 915-7624. We are available 24 hours a day.
Our Maintenance Plans
Techcool offers two maintenance agreements for you. First, we have the basic coverage, which is ideal if you want to sign up for spring and winter maintenance.
This plan covers a 21 pt. inspection, condenser and outdoor coil cleaning for the spring season, and furnace cleaning for winter. It also offers the checking of the unit components and testing the system's operations.
Second, we have the VIP maintenance plans that cover all of that basic coverage services plus motor inspection, contactor inspection, compressor inspection, and capacitor inspection.
If your evaporator coil is accessible, we also offer cleaning of it. You can choose from one, two, or three years of a contract under this plan.
Additional Benefits of Our Maintenance Agreements
Both the basic coverage and VIP plans are beneficial to your system, and once you sign up for any of these, you can guarantee a reliable service from Techcool.
In addition to the benefits we have laid down above, you can also ensure the following:
Restored capacity
Extended lifespan of your unit
Improved system's efficiency
No extra charges for labor or trip
Annual inspections
Transferable agreements
Emergency service
10% off for new units
25% off for refrigerant rates
Our Professional Comfort Specialist are here for Your Preventative Maintenance
Our comfort advisors are happy to help by performing a multi-point inspection for your system.
They are NATE-certified and equipped with the skills and practical knowledge needed to do a specific task.
One part of our inspection is to detect issues that need specific attention and typically, it is done during cooling and heating seasons.
If there is one common misconception for HVAC users, it's the idea of repair. Do not always settle for repair, when you can opt to have preventative maintenance.
Did you know that preventative maintenance can save you more money than frequent repairs?
That's why our comfort specialists always recommend this service to everyone who wants a well-functioning unit while saving money.
Techcool ensures that you will not be taken for granted on our service.
Aside from North Las Vegas, we look forward to assisting clients in Las Vegas, North Las Vegas, Henderson and communities near Nevada to experience the satisfying result of preventative maintenance.
If you want to know more about this service and planning to get away from costly repairs in the future, contact Techcool today!
Do you need Preventative Maintenance in North Las Vegas? Call Techcool on (702) 915-7624 or use the online form to provide a service. We are available 24 hours a day.