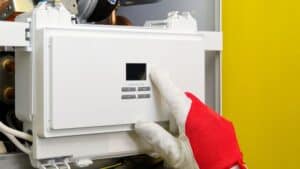 One of the helpful systems you could have in North Las Vegas is a water heater.
A well-functioning water heater can provide convenience to your family when bathing, cooking, washing, and more.
Likewise, having a heating water system saves your time and effort from heating water manually, proof that a water heater is indeed very beneficial.
If you have an installed water heater in your home, there are inevitable circumstances wherein it might slow down or malfunction.
To fix it, you need a water heater repair service from a trusted company.
At Techcool North Las Vegas, we aim to offer you a prompt water heater repair service anytime.
You don't need to wait for long hours for that repair guy to run in your home because our line is always open in case you'd call.
FREE estimates water heater repair, call us on (702) 915-7624 today!
Recognizing When to Call a Water Heater Repair Service
A water heater can have various issues you may or may not see coming.
Some are too obvious, while few problems cannot be easily detected.
The least thing you can do is to keep an eye on the performance of your water heater.
If you observed unusual occurrences on its performance, there might be something wrong on with the system.
To help you figure out if there's a problem or not, consider the following signs:
1. There is not enough hot water supply
If there isn't enough hot water, the problem might be on its dip tubes.
When dip tubes are broken, the supply of hot water will stop, letting the cold water flow and mix with the heated water.
Our plumbing technicians can fix the broken dip tubes for your unit to run efficiently the next time around.
2. The water is either too hot or no heat at all
It is the most common problem in water heaters.
Typically, the main culprit in this issue is the thermostat.
We need to check the thermostat if the set temperature is just right.
If not, we need to tune it up, and it's not a DIY thing to do. It would be better to call professional technicians to fix the issue.
3. The burners are faulty for gas-powered heaters
If you have a gas-powered water heater, a faulty burner might be the cause of not having enough hot water.
A faulty burner might be caused by dust and rust and needs and immediate cleaning.
Plumbing technicians have the right tools and equipment to clean such burners, and you might want to leave it to them.
4. You have a noisy heater tank
If you keep on hearing disturbing or loud sounds on your water heater's tank during operation, it might have sediments at the bottom that need to be removed.
If this is the case, we need to drain your tank as early as possible.
Another reason is that there are heating elements that are starting to burn out.
Do not attempt to solve these issues on your own.
It needs equipment and skills that only technicians have so, asking for professional help would be the best decision.
You can avoid this type of issue if your heating system has annual maintenance.
5. The water coming from the tank doesn't smell good or has color
Any foul odor that you will encounter on the water coming from the heater is a serious issue that needs attention.
A foul smell means that bacteria are living on it and lingering on the water tank.
Note that the water should have no smell and be colorless.
If you notice that it has a rusty color, call our team immediately to inspect and repair the system immediately.
6. Your tank has leaks
Once your tank leaks, it is time to have a new one. There is nothing we can do with it, and we recommend that you purchase a new one.
Leaving your tank with leaks will cost you so much, and it's not obviously suitable for your finance.
FREE estimates water heater repair, call us on (702) 915-7624 today!
Affordable Water Heater Repair for Everybody
One of the typical questions our clients ask is the total cost of a water heater repair.
Techcool understands that you want an affordable repair service that could fit your budget.
The good thing is, we can give it to you. However, we cannot give you a straightforward answer to that question because we need to consider few things such as:
Type of issue
Repair costs are case-specific. It means that the price may vary from one issue to another.
There are water heater problems that are hard to deal with and require our technicians' complex skills.
These difficult issues call for the right compensation, but we can guarantee you that it is still affordable for your pockets.
Moreover, minor repairs cost a lot cheaper than other issues.
Labor
Like we mentioned above, a problematic issue may require our technicians to work for long hours. Their working hours will boil down to the labor fee. The more hours an issue requires, the higher the labor can cost.
Other additional costs
These additional costs can be components or elements that need replacement. If we need to purchase brand new parts for your heater to function properly, we need to.
Although we cannot give you the exact repair costs, we can still give you a free estimate if you want. This rough estimate has a chance to increase or decrease based on your heating system's issue.
Give us a Call!
Do not let yourself suffer from the hassle caused by your water heater.
With our 24/7 repair service, you do not have to endure cold seasons because of a faulty heater.
Discuss your problem with our team immediately, and we will respond to you promptly.
Give us a call at (702) 915-7624 for inquiries and a free estimate.
FREE estimates water heater repair, call us on (702) 915-7624 today!