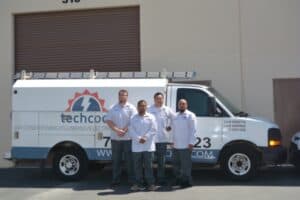 Are you stuck with your heater today and got nowhere to run?
Techcool North Las Vegas is here to resolve your heater and inspect your whole heating system!
With our proven experience in repairing heating systems for the past years, we decided to extend our company here in North Las Vegas.
Whether you want to make sure that your heater is working properly or needs an immediate repair, we got your back all the time!
Our team of experienced technicians and advisors is always ready to fuel the engine and drive straight to you to diagnose the problem. All we need is a call from you, and we will be there as soon as possible.
Although you might find lots of HVAC companies in North Las Vegas who can fix your heating system, Techcool can give you reasons why we have the trusted repair service in town!
Is your furnace acting up? Call for a North Las Vegas heating repair at (702) 915-7624!
Guaranteed and Insured Heating Repair Service
Techcool technicians are trained to give our clients the best possible heating repair service around North Las Vegas.
With years of experience, they know how to take care of your system and as well as your properties. We begin by making sure that the workplace is clean and dry to work on.
We also ensure that we are heavily equipped with advanced tools and equipment to make the repair more efficient.
Above anything else, we are proud and loud to offer our repair service because we are insured.
If some unexpected mistakes or circumstances took place under our technician's load, then we are ready to bring back the favor to you.
Although this is a handful of promises, the whole team always ensures that we will not reach that point. Our team is experts in handling heating repairs, and there is nothing to worry about.
Recommended Heating System Inspections
Serious issues with your heating system are inevitable.
However, you can do something about these issues to delay or even prevent them from happening.
All your appliances and furniture require specific ways to maintain them, isn't it?
Like one of your favorite appliances, a heating system also needs proper maintenance, and one thing you can do is schedule an annual inspection.
If you are not so sure, why take a look at the following benefits of inspections:
You can prevent your system from frequent breakdowns.
You can extend the life of your system and the unit itself.
There will be a well-distributed room temperature all-around your home.
If you do not want costly repairs, you can start scheduling an annual inspection for your system as early as today! We are open for reservations, and we can discuss it anytime you are ready.
When to Call our Team for Your Heater Repair
Given the fact that you have the budget to call a professional company to resolve your heater issues, do you even know when exactly you would call? If not, consider the following signs that you need a rescue from your malfunctioning heating system.
1. Unfamiliar Noises Coming from Your Furnace
Creaking, rattling, and banging sounds from your furnace can mean that its motor has problems. If you are not knowledgeable in troubleshooting it, call a professional technician to figure it out.
2. Yellow Burner Flame
A well-functioning heater should always have a blue gas flame. If yours turns yellow, it means that there is carbon monoxide in the room. Too much carbon monoxide in the air is very hazardous, so we need to fix this issue immediately.
3. Peculiar Increased in Power Consumption
As your heater gets older, it becomes inefficient, which can consume more energy when running it. When your heater slows down, it takes too much time and effort to get the right temperature, resulting in a skyrocket emergency bill you'd never expect.
4. Poor Air Quality
If your house gets hazy without a valid reason, it's because of your heating system. Faulty furnaces are meant to circulate dust and allergens around, which can cause respiratory infections. One troubleshooting technique is to change the air filter of the furnace. If it's already damaged, replace it.
5. No Scheduled Inspection
Do not take your heater for granted. Your heating system needs regular inspection to save you from frequent repairs that are too costly. Average inspections won't take too much of your time. In fact, thirty minutes to one hour would be enough.
Expanded Commercial Heating Repair from Techcool
Aside from our usual residential heating repair, we are ready to introduce our commercial service. If your furnace needs repair, we're just on standby, waiting for your call. We can offer repairs for your worn-out furnace, heat pumps, boilers, and other heating solutions.
We glad that we expanded our service to help more entrepreneurs succeed in their businesses at North Las Vegas.
Connect With Us!
Techcool has your back. Our technicians and advisors are available 24/7 for your residential and commercial heating repair.
Trust our team of professionals, and you'll never regret it.
For free estimate and service queries, you may reach us at (702) 915-7624.
We are willing to help any time of the day!
Is your furnace acting up? Call for a North Las Vegas heating repair at (702) 915-7624!