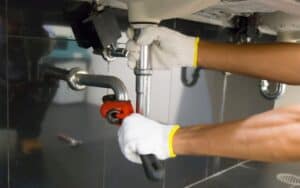 With lots of plumbing companies arising today, you should choose one with years of proven experience.
This is to ensure the quality and expertise of doing the work. It's not wrong to trust newbies.
However, you do not want to risk your money for a trial and error service, don't you?
Stop the search and worry no more because Techcool North Las Vegas is here to be on your top list.
We have been serving our North Las Vegas clients for years now, and they are all satisfied with our repair services.
In fact, our team is a go-to resource for any plumbing issues.
If you have uncontrolled faucet dripping or annoying sewage, we are hundred percent ready to wear our masks and gloves on and start the repair right away!
Be one of Techcool's premium customers and get to see the various plumbing repair services we offer.
We Have a Wide Array of Plumbing Repair Services
A plumbing system is a part of a household or building that should not be taken for granted.
It is responsible for keeping your houses hygienic and your commercial establishment functional.
We at Techcool understand the risk of having a faulty plumbing system, and once you have unexpected issues, we are just one call away.
We know that the competition between plumbing companies is very high, and we are eager to level up our services so we can be on top of the race.
But how can we do that? Providing a smooth and hassle-free plumbing repair service with consistent quality is our asset to earn the top spot in the competition.
We are in for the experience and your satisfaction, while profit comes just second.
Techcool offers a wide range of plumbing repair services. From simple to complex issues, we can detect and repair them immediately to stop you from enduring the day.
Call us if:
Your drain or sink is clogged.
There are water leaks on the handles of your faucets.
You need assistance with waste management.
Your fixtures and pipes are rusting.
The water pressure is too high or too low for your household.
Your plumbing system isn't meeting the demands of your household and commercial establishment.
You want to improve your drainage system.
Other plumbing issues.
Regardless of what time of the day it is, if you need help from professional plumber technicians, our line is 24/7 open to assist you.
Your Maintenance Checklist
Although we are here anytime to get your plumbing system fixed, we want you to know that you can do something about it to skip the cost of repair.
Proper maintenance is all you need, and you'll get lesser chances of calling technicians for repair by doing the following:
Clear your sinks as soon as you notice that it is blocked.
Do not let all objects go down your drain. You can just select what to throw and what to flush.
Always let cold water flow for 15 seconds before you use the disposal.
Go through your sinks and check them weekly to see if there are leaks or moisture.
Test your shower drains and sinks in case of slow drainage.
During cold seasons, it would be better to turn off the insulated pipes and valves during cold seasons and disconnect hoses.
During hot seasons, check your sinks underneath for leaks, keep an eye on your appliances, and get the dirt out of your sprinkler heads.
Schedule annual inspection for your plumbing and other systems.
If you know how to take care of your system properly, you can save your pocket for costly repairs. Likewise, annual inspections and preventive maintenance can extend your units' lives and improve your system's efficiency. Maintenance is magic!
Worried About the Plumbing Repair Cost?
If you do not have any chance but to run for a quick and emergency repair, expect that complicated issues mean complicated costs as well. But here at Techcool, we value and consider your finances, and we have good news for you!
Our plumbing repair service won't charge you extra for emergencies, weekends, and holiday repairs. Yes, you read that right! We do not have hidden costs or even trip charges during emergency repairs. Pretty considerable, isn't it?
The only thing we want you to note is the labor and the parts or components that need replacement. Some issues really require long hours to fix.
This can mean that the labor cost has a chance to increase. But we do not exploit and use this as an excuse to work slower to produce a huge amount of profit.
We accomplish tasks as fast as we can, and we practice the use of advanced tools to speed up our repair process.
Moreover, if your unit needs a specific component particular only to its model, please expect that there will be a waiting time so we can order the parts from our trusted manufacturers.
If possible, we can get the order on the same day and repair your unit quickly.
Techcool offers a free estimate on your plumbing repair. Call us now, and we'll be glad to answer your queries.
Techcool North Las Vegas: Your Go-To Resource for Your Plumbing Repairs
Techcool always ensures the best and affordable plumbing repair for our clients.
We already expanded our services in North Las Vegas, so you won't have a hard time searching for a credible company.
We can guarantee a fast and excellent plumbing repair for your household and commercial properties. Save your money, energy, and your property by trusting us!
For a free estimate, inquiries, or clarifications, you may contact us at (702) 915-7624. We provide plumbing repair services 24/7!
---
Techcool is a family business that specializes in ac repair in Las Vegas. We give fair pricing and excellent customer service. We achieve efficiency by using state-of-the-art equipment backed by knowledgeable technicians & office staff. Give us a call today so we can show you what we have done for many others.