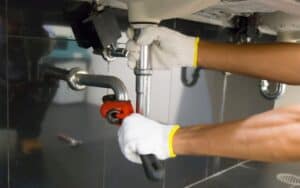 One of the hassle issues you will encounter as a property owner is a plumbing problem.
Note that your plumbing system has an essential role in your household or even in a commercial building if you have one.
Plumbing issues are just ordinary, and time will come that you will unexpectedly come across with this problem.
When plumbing issues happen, plumbing repair North Las Vegas got you.
What is a plumbing repair?
A plumbing system in a property talks about a couple of things. It mostly includes the water supply and pipe distribution, which is crucial in every building.
It also covers waste, vent, soil pipes, and the famous problem of all, which is drainage.
When you encounter any severe issue in the parts mentioned above of a plumbing system, it is time you need a plumbing repair from a professional plumber.
Plumbing repair covers all of the solutions to your existing system that have issues. Mostly, these issues are dripping faucets, leaking pipes, clogged drainage and toilet, low water pressure, malfunctioned water heater, and jammed garbage disposal.
Most of these issues cause too much hassle that needs a thorough investigation and professional help from the right company.
Why do you need plumbing repair?
We are sure that you do not want to waste time and effort trying to fix clogged drainage or a toilet on your own.
You do not have to suffer from your messy plumbing issues because there are available plumbing repair services that can get you out of the dirty and hassle job.
It is undeniably true that plumbing works are a bit muddled and complicated than any other type of repairs. Saving you from this trouble is our primary job, and you might want to avail of a plumbing repair service to see the best of the best service that we can offer for you.
One beneficial thing about trusting a plumbing repair company like us at Techcool is we have a wide array of tools that can get the job done faster and with accuracy.
We are certain that some of the households do not have the appropriate tools essential in repairing, the reason why we are more passionate about helping our customers like you to save you from any stress.
Whether you want a turnaround for your clogged pipes or installation of a new system like drainage, name it, we will solve it.
How much does a plumbing repair cost?
Since the plumbing system and repairs talk and cover many things, expect that the estimated cost will also vary from the type of job needed to resolve your plumbing issue.
Note that its job size typically determines the price. If your system requires small repairs such as leakage fixing and drainage cleaning, it usually starts from $100. Meanwhile, if a bigger repair is needed, the price starts from $500.
Although these are just an overview, we guarantee you reasonable pricing on top of our quality work. The good thing is that you can get a quote or estimate directly from us.
However, we will need to visit or check your system more to better give you the exact and right type of repair before giving you the estimate. In this way, we can set the right expectations.
Plumbing Repair Process
Plumbing repairs require a different and unique process for each type of issue. Simple problems might take three to five steps, while serious issues demand a full and detailed method to resolve.
However, our company has a common denominator in each issue that makes us a quality service provider than any other company out there.
To give you an idea, our repair process starts at troubleshooting the main problem in your system. It includes your cooperation as our customer.
We will need to ask you what happened, what did you notice before the problem arose, and were there any steps you tried to resolve? All of these are essential to get the right solution to your problem.
The next step will include the team's expertise in handling the problem and coming up with the most effective solution. It might start in turning off the water supply, removing and adding pipes or cleaning.
You can expect that whatever type of problem you are stuck, we are here to get you away with that. We will keep you informed with the improvements, and we will keep your property well-managed.
Knowing that plumbing is one of the essential systems in a property, we will give you recommendations and helpful tips or guides to better take care of it the next time.
If you have concerns that need immediate attention, we will prioritize it along the process. You also have the freedom to raise questions, clarifications, and reactions to our team's performance in solving your issue.
We are more than happy to receive feedback from our customers and take it as our driving motivation to keep up a good job.
Plumbing Repair in North Las Vegas
To save you from any anxiety, and added trouble in resolving your plumbing needs, consider looking at the quality of the service. You might want to keep an eye on the previous customers and their reviews regarding the company.
The testimonials and feedback will be your guide if you are on the right track of trusting them. Go for the company that delivers the best type of service while treating you as their companion along the process.
As a dedicated plumbing repair in North Las Vegas, we can give you a trusted and guaranteed type of service in which you can put your mind at ease.
We know and understand that your property is one of your vast investments, and so we are here to take care of it and give your system a quality repair that you and your property deserve.
Our main goal is to give you a high-quality plumbing repair service, together with excellent customer service.
For more inquiries or additional information about our services, do not hesitate to reach our team at (702) 915-7624.
We are happy to serve and hear from you!