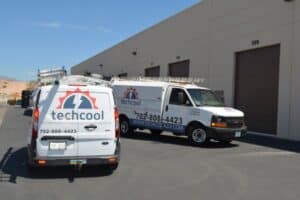 At Techcool, we would like to remind all customers that installing a new air conditioning system under these conditions is about 120 degrees in your attic when it is 90 degrees outside.
Don't wait until the hot summer heat arrives — start planning for an early winter or spring launch during the fall and winter.
Imagine just coming home to a cool, cozy home after a long HOT day!
With our five-star North Las Vegas AC services that we deliver to residents around North Las Vegas and surrounding areas, we can make that a reality.
If you are trying to decide if your device should be repaired or replaced, keep in mind the ongoing cost factor.
With modern, high-efficiency appliances, you could save up to 60 per cent on your energy bill.
Even if you have an air conditioner that is only a few years old, compared with today's energy efficiency standards, it might still be inefficient.
Installing a new, high-efficiency cooling system in a relatively short time could actually pay for itself in energy savings.
Keep on cool this summer! For fast, skilled AC services, call or use our online form at Techcool at (702) 915-7624.
Does My AC require repairs?
One of our North Las Vegas technicians in emergency can quickly come to your home with the expertise and equipment to repair your AC system immediately.
Our workers are expertly trained to represent both brands and models.
The price that we quote with our "No Surprises Pricing Guarantee" is the price you pay.
If the job takes longer than expected, there are never any additional costs.
All work is assured, and your happiness!
Not sure if you should repair or replace your heating unit or air conditioning?
Consider this: if you're running an inefficient system that breaks up more than it should, there's a risk it'll break down again.
More costly emergency calling services and possible damage to the other components of your air conditioning system come with a system stall.
Our ac repair las vegas will always do whatever we can to keep your system running in tip-top shape for as long as possible, but there comes a time when replacing it with a new, energy-efficient device is only more cost-effective.
Required repair from Your AC Unit?
A neglected air conditioner can cost you money in lost performance, unexpected breakdowns and shortened cooling system lifetime.
The best way to keep your machine operating at peak performance is to call your North Las Vegas AC repair technician for an annual system tune-up, and to correct problems before they become expensive emergencies.
We go further than the clean-and-check basics. Our air conditioner precision tune-up includes:
An overview of the air delivery system to ensure maximum airflow all over your home.
A Thorough inspection for malfunctions that can cause expensive breakdowns during peak use, giving you peace of mind ensuring your air conditioner works safely and efficiently throughout the summer.
The best thing about a tune-up air conditioner? All pays for itself! On your electricity bills it can save you up to 30 per cent.
As heating and cooling technologies keep evolving every year, so does the complexity of upgraded air conditioning systems.
At our maintenance company North Las Vegas AC, we invest in rigorous training to ensure that our technicians keep their diagnostic skills honed while gaining practical experience with the new technologies.
Our customers benefit from experts in the heating and cooling field who spend less time solving their issues by having it done the first time correctly.
Consider signing up for our Service Partner Package, for total peace of mind! For the length of your membership, you can enjoy discounts, priority service and the comfort of regularly scheduled maintenance.
Installation / Replacements
When you're ready to upgrade your air conditioner to a new one, a repair & installation specialist from North Las Vegas AC will come by to assess your house, your comfort needs and your budget.
We'll also address issues such as allergies and indoor air quality to decide which air conditioner suits your home and lifestyle perfectly.
We bring a complete line of energy efficient air conditioning systems Lennox and American Standard, using advanced technology to deliver long-lasting comfort and incredible energy savings 365 days a year!
Here are a few more AC services we provide in North Las Vegas:
24-Hour Emergency air conditioning service
Repairs to the air conditioning, sales and upgrades
We bring a creative range of American Standard and Lennox products
Current programmable / wi-fi thermostats
AC repairs, modifications and safety checks
Heating at home and ventilation we're doing it all!
Get your North Las Vegas property cooling better! Call Techcool for standard refrigeration services in and around North Las Vegas. Send us a ring to order service at (702) 915-7624, or schedule an appointment online.