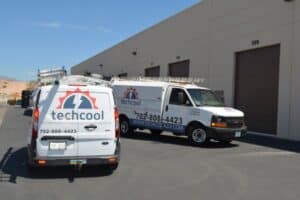 Techcool aims to commit and achieve more for the succeeding years with one of North Las Vegas top HVAC service providers.
We've been in the industry since 2014, and our team just keeps improving.
Our service keeps on expanding, and we want our customers to keep believing.
Techcool has mastered the art of providing you the comfort you need through our AC repair service in North Las Vegas.
Get a swelter-free environment by calling our team whenever you experience issues with your air conditioner.
Our company believes that a comfortable environment improves productivity and strengthens relationships at home.
With this in mind, we will keep doing our mission.
Do you need AC repair right now in North Las Vegas? Call our heating and air conditioning company (702) 915-7624 or use the online form to provide a service. We are available 24 hours a day.
Professional AC Repair North Las Vegas
Techcool believes that professionalism is essential for a company to run and drive its wheel to success.
This is why there is no doubt that our company made it to the top today.
Below are the proofs that we are real professionals in the HVAC field.
Testimonials
With our long years of experience, we have gained our clients' trust, making us their great ally when they need repair rescue.
They provided and rewarded us with their testimonials regarding our performance in the field.
All of them are satisfied and happy with our HVAC services, especially AC repair.
Partnership with trusted brands
As years pass by, we found and established great partnerships in helping you with the services you need.
We partnered with various brands that offer quality products and whose goal is to serve you in a timely manner like ours.
Trusted HVAC Repair in North Las Vegas
Our company upholds values that are beneficial to our clients and partnered brands.
We make sure to practice a strong sense of responsibility on both basic and major operations within our entity.
By doing so, we can provide our clients a high-level service. As a trustworthy service provider, you can expect us to be:
Transparent
Techcool always discloses all the information you need to know about our company, services, and your rights as a customer.
We clearly communicate our intentions through our contract.
This includes the payment terms, our obligations, your role, and more. We do not hide any information from you, especially when it comes to our service costs.
You can expect transparency from the beginning until the end of your project.
Open to questions
We have excellent customer service and emphatic staff that you can ask whenever you need answers.
In fact, we have free consultations you can attend to provide you with a clear understanding of our company and the services you need.
Best Air Conditioning Repair in North Las Vegas
By trusting Techcool North Las Vegas, you can ensure a team that takes responsibility as soon as we sign the contract.
When something goes wrong with our service, we will ensure that we'd go back to you and fix what needs to be fixed with no additional costs.
We want you to fully trust us, and we can do this by giving you a guarantee regardless of what service you want to purchase.
Likewise, we made our services affordable for everybody, so you don't have to take a huge portion of your savings just to fix your unit.
Techcool wants to be part of your success and productivity at home or in offices.
Do not hesitate to reach us to experience a superb service that comes in budget-friendly packages.
Emergency AC Repair Services
With our mission to keep you safe 24/7, we are making our repair service available anytime and anywhere.
You can expect us to fix any AC problems you have without charging you an extra fee.
We do not have hidden charges, and we do not overcharge our clients during holidays and weekends.
Whether it is daytime or nighttime, call Techcool North Las Vegas at (701) 808-4423, and we'll surely respond!
Do you need AC repair right now in North Las Vegas? Call our heating and air conditioning company (702) 915-7624 or use the online form to provide a service. We are available 24 hours a day.
Frequently Asked Questions
How much would I spend on an AC repair?
Your AC's repair cost can only determine if we are done inspecting your unit and finding the issue.
There are problems that take time and effort to fix, while some will only last for 30 minutes of repair.
The overall cost will also depend if there are parts needed to be removed and replaced by new ones.
However, we can still provide a free estimate for you.
How much does the new AC unit costs?
The prices of air conditioner units greatly differ on their model and brand.
New models are definitely a lot more expensive than old ones.
It also depends on the motor a unit has. We could recommend you some units, but it would also be better if you'll do your research so that you can plan for your budget.
Is it true that maintenance extends the life of my AC?
Yes, it is true. A well-maintained unit can stand the test of time.
No matter how old your AC is, if you choose to give it the maintenance it deserves, it can last for a decade.