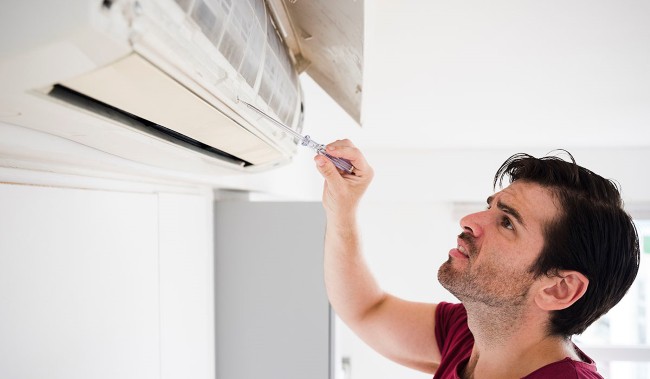 Why does my air conditioner keep shutting off
Your air conditioning unit should come and stay on for at least ten to 15 minutes.
If your unit shuts itself down after 15 minutes or less every time you open it, there might be a problem.
This shutting down is commonly called short cycling, and this is bad because:
You are wasting energy and increasing energy costs.
You would not get the temperature you desire.
There are malfunctioning parts in your unit.
This short cycling issue should always be fixed immediately, but you can also do something about it or at least prevent it.
But before you proceed to any solution, you might want to know why your air conditioning unit keeps shutting off.
AC problems that cause it to shut off
AC units only shut off when there are problems inside them, such as:
Overheating
can mean that there is a build-up of grime in its compressor unit, but it is also possible that there are refrigerant leaks.
Faulty thermostat
Your AC unit's wiring could have been damaged on its thermostat, or there are other electrical problems concerned with it.
Lack of maintenance
AC units need regular maintenance at least twice a year. You might want to reach out to an HVAC service company that can do it for you.
Three easy ways for AC that keeps on shutting off
Sometimes, these solutions may not work in your case, and it would not fix a unit with faulty hardware. However, it is worth trying before you call a technician. Here are three easy fixes you can try on your own.
Check the thermostat settings
You might want to double-check your thermostat first. Set the temperature lower and see if it stays on longer.
Check the timer
Your thermostat surely has timer settings. You might want to check it and see if you can change it. If you do not know how to change it, see the direction on its manual.
Double-check the thermostat location
Sometimes, you only need to relocate your thermostat. You need to check that it should be placed where it senses the indoor temperature and not the outdoor. If your thermostat is away from your windows, near your AC vent or on the shady part of the house, that could be your problem.
If neither of these is the problem, it would be better to call an HVAC professional to check it.
Get your AC fixed!
Calling an HVAC professional is the best way if you are not sure how to check it. To make sure you and your unit are safe, just let your technician do the thing for you.
HVAC professionals have the right tools and expertise to diagnose and solve your air conditioning unit system properly.
---
Techcool specializes in ac repair for Las Vegas, Henderson, and its surrounding cities. We use state-of-the-art equipment and provide excellent customer service at fair pricing. Give us a call today so we can show you what Techcool can do for you.